In-person sessions for happier, motivated employees and stronger teams
Manage workplace stress with calm and more respectful interactions
Build lasting bonds for better collaboration and happiness in the workplace
Improve productivity to help your organisation thrive with its people
The workplace can be a stressful and draining place for the mind and body. Incorporating regular yoga practices can support you and your colleagues to enjoy a more harmonious working experience - whether in the office, or working from home.
Government organisations

Businesses
Not-for-profits

Community groups
Corporate classes are based on self-exploration of the physical, mental, emotional, and spiritual aspects within all of us.
PHYSICAL
Corrects posture, enhances flexibility and overall health

Eliminates the risk of work-related injuries.
SPIRITUAL
Better sense of connection with inner-self and surrounding environments
MENTAL
Diminishes chronic health patterns

Reduced risk of stress related issues and

Boosts creativity and problem-solving mindset of employees
EMOTIONAL
Improves productivity and promotes a calmer reaction to demanding situations in the workplace

Encourages a more positive outlook and lighter environment
WARNING: SIDE EFFECTS
Healthier and energised work space

Stronger, evolved organisations

Motivated, bonded teams
---
1) MEDITATION
Overview: Our meditation classes we mindfully attend to whatever arises in that moment (termed as 'living in the present'). These sessions will include breath work, visualisation, body sensing, and other tools creatively sculpted to suit corporate executives, professionals, and workers across the organizations.
2) YIN + MEDITATION
Overview: A class focussed on calming our nervous system using different mindfulness and meditation techniques, as well as, exploring varied sensations as we hold a few long postures. This class will bring a sense of grounding and connectedness with our deeper self. 
3) YOGA-FLOW
Overview: A practice to bring movement not just superficially through the body; but also movements of our energy and fluid within. This class will allow rebalancing the effects of long-sitting desk work and reignite the spark of freshness to keep you going energetically throughout the day.
CORPORATE OFFERINGS
Team building sessions (Groups of 15-20)

Weekly and Monthly sessions (Groups of 10-15)

Sessions to support leadership forums, events and executive meetings.

Weekend retreats and refresh programs tailored for your team.
COST
Please contact us with your needs so we can design and quote on a program tailored for your specific needs and nature of work.
Attached are examples of our tailored corporate programs.
CORPORATE YOGA FREQUENTLY ASKED QUESTIONS
We can go to you if that's convenient. Alternatively, we find some teams like to make a morning or afternoon of it and come to our studios where we offer facilities such as. 
Toilets and showers (male and female).

Secure lockers

Infrared heaters

Mats and props (we'll bring this to the session if it's at your workplace of course)
No. Flexibility is a great benefit of doing yoga, yet certainly not a pre-requisite. What's more important is the willingness to be open to the practice. To enjoy taking time away from work for themselves. To participate. And to have fun - yoga isn't as serious as it seems.  
Yes. All sessions are designed to be beginner-friendly for both men and women. We understand not everyone has done yoga before. Some may only be doing it because it's convenient for them during work! That's ok. Everyone starts somewhere.
We'll do simple stretches, breathing routines, and more - suited for anyone at work, no matter whether they've had experience with yoga or not. 
Mats and props are provided and cleaned after each use (participants are welcome to bring their own of course)

Water bottle

Wear comfortable and breathable clothing such as a t-shirt with leggings or shorts. Note: office wear is fine for meditation and some customised leadership sessions.
CORPORATE YOGA IN MELBOURNE'S WESTERN SUBURBS AND BEYOND
The studio is based in Point Cook and we're often joined by residents from:
Altona Meadows

Laverton

Point Cook

Seabrook

Tarneit
Truganina

Werribee

Wyndham

Wyndham Vale
CORPORATE YOGA CLASSES
Classes offered based on your convenience (location and time)

Friendly, skilled teachers to guide you

Easy to follow classes adapted to your needs
"Instructor was wonderful, she was informative, experienced...I love the breathing exercises that she taught, I was in a very relaxing mindset while I was practising it. It was a really good session and enjoyed every bit of it."
- CORPORATE YOGA PARTICIPANT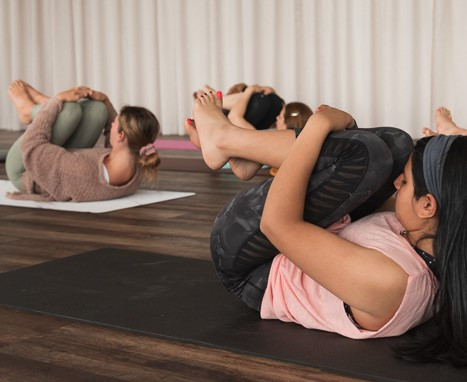 "I engaged Jay to run yoga sessions as part of health and well-being week at NAB and she was a delight to work with. She customised the sessions to have a mix of mat, chair and breathing exercises.The session was informative, well paced and conducted with great professionalism. My experience was truly fantastic and highly recommend her services."
- POOJA BHADRA, BUSINESS DIRECT AND SMALL BUSINESS, NATIONAL AUSTRALIA BANK LIMITED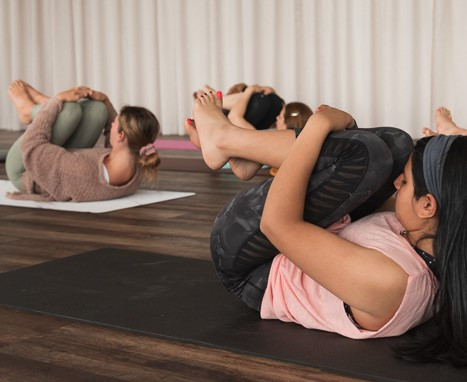 CORPORATE TEAMS WE HAVE HELPED INCLUDE:
---