Integrate your energies with others and thrive together on the mat
Yoga suited for people of all levels

Wide range of classes including yin, flow, and hot yoga

Friendly and approachable teachers to guide your practice
CLASSES
We run group yoga classes at our Shalas 7 days a week; with live-stream options for many of them too. Pick from over 40 classes and a wide variety of classes (read the descriptions below for more info)
TIMETABLE
Use 'Book-a-class' links provided across our website to find our full timetable or download the Momence App and just find us there (Laya Yoga and Westside Yoga).
CANCELLATION POLICY
If you need to cancel, please let us know 3 hours in advance so your place can be offered to another yogi. Cancellation fees apply.
CLASS DESCRIPTIONS
We encourage people of any experience with yoga to explore the range of classes taught by a wonderful mix of teachers. We love welcoming new yogis - as well as experienced yogis looking to explore further.
Are you new, have an injury, or other need? Our teachers offer options for poses or stretches so you can choose what's comfortable and feels right for your body.
Beginners: The following classes are a wonderful way to begin your yoga journey: The Complete Package, Flow & Align, Slow Flow, Hot Yoga, Yin Yoga and/or Restorative Yoga, Come On Kids.
Feel free to try out any other class also - have a quick chat to the teacher before class as all our teachers can adapt classes to suit yogis of all experiences.
Jaymala is such a nurturing, caring and inspiring teacher. Her classes are always thoroughly enjoyable and you can tell that she puts a lot of thought and effort into them. Jaymala is a beautiful soul and her teaching is one of a kind, from yogic philosophy to funny jokes in class, she's fabulous! Thank you Jay.
- AMY THAI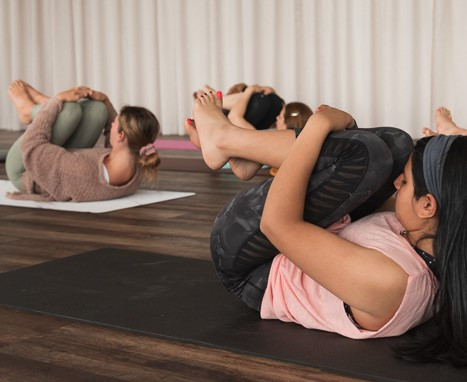 Frequently Asked Questions
While we love to chat with you, below is an attempt to answer some of the most frequently asked questions:
The doors will open 15-20 minutes prior to the class. If you are new to Laya Yoga, please arrive 15 minutes before the class commences, to help us register and orient you to our beautiful studio. Please arrive at least 5 minutes before class time as the doors will be closed when it starts. 
Toilets and showers are located in the studio (male and female). If you would like to use the showers before the class, please arrive 15 minutes beforehand.

Lockers with secure keys are available for the safety of your valuables.

Infrared heaters (these types of heaters maintain breathable air around the studio and don't trigger dizziness).

Mats and props- so you don't need to bring your own (but you can if you like).

Our lovely look-out at the balcony garden and self-service herbs to take home
No. In fact that could be a reason to start yoga. With consistent practice, you'll be surprised by how quickly your body finds its way home: to find length, suppleness and mobility.
Children above 12 years of age may attend the class, under their parent/guardian's surveillance. If your child is younger than 12 years and you would like to introduce them to yoga, check out Kids Yoga classes for ages 5-12 years old.  
Absolutely. Before class, please let your teacher know so they'll give you adjustments accordingly. You can also mix group classes with a 1-1 Pregnancy Yoga so we can get a better understanding of your needs and guide you through exercises tailored to you at your stage of pregnancy. 
We welcome drop ins although a booking is best to be sure you reserve a spot - especially for busy classes. We also need to restrict numbers as per government rules, so bookings and timely cancellations are essential for us to continue serving our community seamlessly. 
Most of our classes are beginner-friendly. All the beginner-suited classes are marked with an asterisk (*).
Mats and props are available - however we highly recommend you to bring your own during COVID-19. Note we provide anti-bacterial wipes for cleaning mats thoroughly after each use.

Water bottle

Towel for hot yoga classes (in the studio)

Wear comfortable and breathable clothing such as a t-shirt with leggings or shorts
GROUP YOGA IN MELBOURNE'S WESTERN SUBURBS AND BEYOND
The studio is based in Point Cook and we're often joined by residents from:
Altona Meadows

Laverton

Point Cook

Seabrook

Tarneit
Truganina

Werribee

Wyndham

Wyndham Vale
GROUP YOGA CLASSES
Classes 7 days a week for your convenience

Friendly, skilled teachers to guide you

Easy to follow classes adapted to your needs
Laya yoga offers a beautiful yoga experience, the teachers are lovely, the space is peaceful and inviting. The wonderful Jay always allows you to hold space and feel safe to go deeper into your practice. Highly recommended!
- TANIA IANNACONE